eShare for EPC
CADMATIC eShare is your digital twin for effective engineering information management. Used as the central hub for all project information you can minimize overruns and support the successful delivery of your EPC plans.
Book a free demo
Key benefits
Improve project communication and reduce costly errors
Avoid timeline or budget overruns
Improved information flow to improve decision-making
Your whole project team can collaborate within a single platform
Engineering information management software for successful EPC projects

CADMATIC eShare is your solution for integrating and vizualizing engineering, procurement and construction information. With your project's digital twin you can follow and monitor processes, optimize management, and support your decision making. Empower your project understanding with eShare.
Digital twin as support for EPC projects

Make timely project decisions every day
Use the 3D model as a discussion board for comparing and reviewing design changes
Combine 3D models from various formats (PDS®, PDMS®, S3D®, Cadmatic, DWG®, IFC®, etc.) and laser scans
5 times faster flow check-in processes with connected P&IDs and 3D models
Review, access and contribute to project information on-site with eGo for tablets
Combine and visualize high-quality data
Access information from different systems to give you complete control over your engineering data
Base categorization on different criteria
Get hold of your data directly and automatically in the 3D interface
Make construction a success
Combined data from feasibility data and constructability analysis for:

Prefabrication analysis
Site warehouse management
Progress monitoring of construction and prefabrication process and stages

Utilize the advanced HoloLens technology and align 3D data with the real environment
Software demos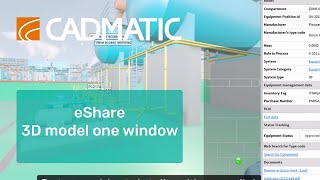 One window to all project related data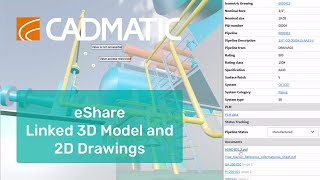 Linked 3D model and 2D drawings provide a unique experience in eShare
More related software solutions