Digital twin for Engineering, Procurement and Construction
CADMATIC eShare is the central web hub of all project information for every stage of the project lifecycle. It minimizes overruns and supports the delivery of more successful EPC projects.
Book a free demo
Key benefits
Reduce costly errors by improving communication between project stakeholders
Save time and money by making better daily decisions about project activities due to easily accessible information
Avoid overruns in timelines and budgets by visualizing work packages in critical paths
Enable people to collaborate within a single platform instead of a handoff scenario between design and engineering
Information-rich 3D model as window to any project data is the key to successful EPC projects

CADMATIC eShare – the digital twin for projects – is the software solution for integrating and visualizing engineering, procurement and construction data. Users can follow engineering processes, monitor constructability, material availability and construction processes, optimize change management and support decision-making. eShare delivers instant understanding by finding and visualizing information in different ways.
Digital twin as support for EPC projects

Make better everyday project decisions, on time
Use 3D model as discussion board to compare, comment on and review design changes
Combine 3D models from various formats (PDS®, PDMS®, S3D®, CADMATIC, DWG®, IFC®, etc.) and laser scans of the facility
Flow check in processes is 5 times faster with automatic color-based links between P&IDs and the 3D model
Project review and access to engineering data on site with eGo on mobile tablet and use it to add pictures and comments from the construction site visit
Better quality by combining and visualizing data from different sources
Complete control of engineering data and standardized way of accessing data from different systems
Categorization based on e.g. the stress calculation of pipelines
Access information directly and automatically in 3D interface without need to use other systems or check documents
Make construction a success with eShare
Integration with feasibility data and constructability analysis combines data for:

Prefabrication analysis
Site warehouse management
Progress monitoring of construction and prefabrication process and stages

Use modern technology and align 3D digital data with existing environment in AR/VR/ MR HoloLens®
Software demos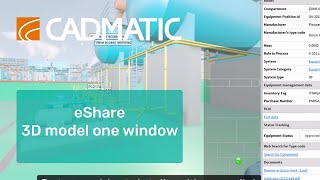 One window to all project related data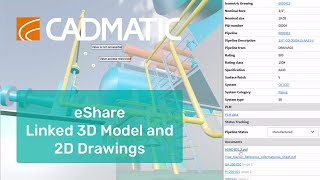 Linked 3D model and 2D drawings provide a unique experience in eShare
More related software solutions