CADMATIC 3D Plant Design™
Intelligent and specification-driven software speeds up and eases design work while reducing errors.
Book a free demo
Key benefits
Highly scalable multiuser system for globally distributed design teams.
Existing 3D designs are easy to modify and reuse in multiple projects.
Optimal performance also with large and complex 3D models.
Automation of data handling, minimizing errors, saving time.
Load point clouds created with laser scanner equipment into the 3D design area.
Publish designs for review in CADMATIC eShare platform for digital twins.
Scalable solution for industrial plant design
CADMATIC 3D design tools are built to address the specific needs of engineering for the plant industry, and the solution scales from a few designers working in the same office to multinational organizations with sites around the world.
The use of specifications and component libraries allows the designers to focus on the actual construction and without having to worry about selecting the correct materials. A high level of interoperability features allows designers to utilize 3D objects created in third-party software packages and to export native CADMATIC 3D objects to other file formats. From the 3D design data, it is possible to generate automatically annotated project documentation as well as portable, lightweight 3D models that can be used for project reviews and status tracking—as often as needed, and with the latest changes always included.

Why CADMATIC

3D model and layout
CADMATIC 3D Plant Design lets users concentrate on important tasks: creating equipment layouts, routing pipes and ducts, locating structural units, allocating service spaces and completing projects by laying electric cables, while the software takes care of the rest: controlling collisions and indicating connections according to diagrams, storing units for further use and checking the compatibility of components.


Structural modeling
Predefined structural units allow the easy creation of constructions that are used repeatedly. Designers can set the types and standards of the units such as platforms, walkways, cages, and ladders, for example, and then place them in the model.

All the required construction data can be extracted automatically, including MTOs, construction drawings, and others.


Piping design
When doing piping design in CADMATIC, the designer can rest assured that the correct components from the standards library are being used.
By taking advantage of the suggested connection points according to the diagram, order or piping elements and online collision, error-free piping design can be achieved.

Reference
Finnish Consulting Group
Engineering and consulting company uses CADMATIC for demanding and large underground wastewater projects
Read the case study
Software demos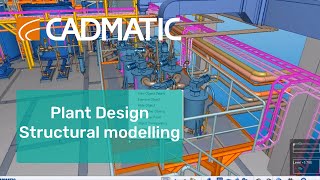 CADMATIC 3D Plant Design Software - Structural modeling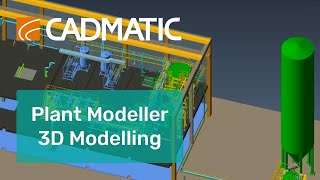 3D Modeling - CADMATIC Plant Modeler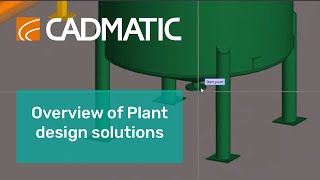 CADMATIC — Overview of Plant design solutions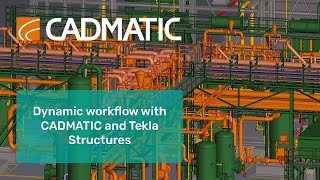 Dynamic workflow with CADMATIC and Tekla Structures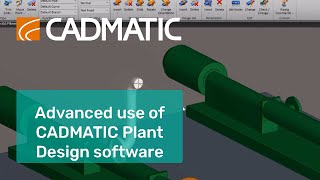 Advanced use of CADMATIC Plant Design software
"CADMATIC has sufficient capacity to deal with large projects. The Blominmäki treatment plant is a 10-hectare area filled with pipes and devices, which demands a lot from the software. CADMATIC does not run out of steam. Their piping design features are truly world class."
Petri Poikonen, Planning Manager

Discover how we can help your business
Get in touch today to arrange a free demo and learn more about our solutions and how we can help you improve your processes.
Book a free demo